About Us
About Us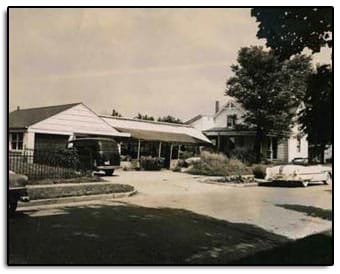 McKinney's Flowers has been delivering to Lafayette, West Lafayette & Purdue since 1947.
The McKinney family still owns and operates our shop in the original historic Linnwood neighborhood. We are committed to brightening your life with flowers. Our friendly and knowledgeable staff are dedicated to helping all our clients select the most memorable and perfect gift for others or for yourself.
McKinney's Team
Leeanne is a third generation floral designer in the McKinney family. She has been managing McKinney's Flowers since 2002, representing the long-established shop her grandparents, Jess and Dorothy McKinney, created in 1947. Leeanne graduated from design school in 1996, becoming an Indiana State Certified Florist shortly after. Her family's passion for flowers radiates through her work, as she has earned prizes at the state level in floral design and continues to pursue this integral dedication with yearly design classes. Leeanne enjoys many adventurous hobbies, such as: travelling, hiking, skiing, and biking. She also loves spending time with her family.
Micah is a talented designer and owns her own flower-growing business, Honey Bee Flower Farm. Some of the flowers that you see in our arrangements, especially during the warm weather months, are grown with passion from Micah's farm. She graduated from Purdue with a horticulture degree and has been working with flowers for a year now. Micah loves growing unique flowers in her greenhouse and spending time outside. Two interesting facts about her is that she is a quadruplet and a total plant nerd!
Monique not only designs but also takes care of all of our flowers here at McKinney's. She started working in the flower business toward the beginning of the year and previously studied at uIndy. Monique has a passion for many things including: reading, playing card games, writing, drawing, and video games. She is a huge fan of all things science fiction related!
Peggy is a designer here at the shop and has worked with plants and flowers her entire life. She previously worked at Bennett's Greenhouse and Marsh's Flower Department. Peggy grew up in a lush forest, sparking her passion as a nature-lover and likes to garden and go camping in every season. She is a proud Niches Land Supporter. Peggy also has one granddaughter and possesses an eclectic musical taste.
Kaitlyn is a designer at McKinney's and also specializes in customer service. She first started out at a flower shop in Temecula, California after graduating from high school. Kaitlyn has a serious passion for the environment and is currently studying for her major in environmental science. She enjoys traveling, photography, hiking, gardening, cooking, and spending time with people who make her happy. An interesting fact about her is that she can play the alto saxophone!
McKinney's Flower Shop
1700 N. 17th St.
Lafayette, IN 47904
---
Store Hours:*
*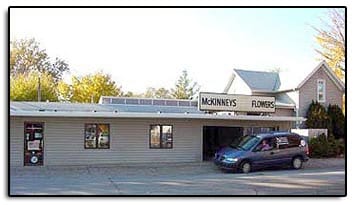 Our shop is open from 8:00 a.m. to 5:00 p.m., Monday through Friday and from 9:00 a.m. to 1:00 p.m. on Saturday.

We are closed on Sundays with the exception of funeral deliveries.

To help assure on-time delivery during the busy holiday season, place your order at least one day prior to the following major holidays: Thanksgiving Day, Christmas Day, New Year's Day, Valentine's Day, Easter, Administrative Professionals Week, Mother's Day, Memorial Day, Father's Day, Independence Day and Labor Day.

Our shop will always be closed on the following holidays: Thanksgiving Day, Christmas Day, New Year's Day, Easter, Mother's Day, Memorial Day, Father's Day, Independence Day and Labor Day.
Payment Options
We accept the following payment methods:
Visa
MasterCard
Discover/NOVUS
Diners Club
Carte Blanche
JCB
American Express
Substitution Policy
Occasionally, substitutions may be necessary to create your bouquet due to the availability of certain flowers in various parts of the country. Care is taken to maintain the style, theme and color scheme of the arrangement, using flowers of equal value. Additionally, the substitution of certain keepsake items may be necessary due to increased demand, especially during major holidays. In single-flower arrangements, such as an all rose bouquet, or orchids, we will make every attempt to match the flower type, but may substitute with another color.
Areas Served
Our shop personally delivers to the following areas: Lafayette, West Lafayette and Purdue University. For other areas, we will contact one of the local florists in our network to provide the same quality service.
Delivery Policy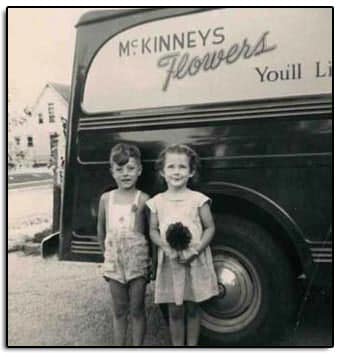 A local delivery fee of $10.45 will be added to each order, for each address. (For deliveries outside our local delivery area or during holidays like Valentine's Day, this fee may vary.)

U.S. orders must be received before 12:00 noon in the recipient's time zone to assure same-day delivery. Orders received after that time will be delivered the following day.
We will do our best to accommodate deliveries at specific times of day, but we cannot guarantee it. If you require a specific delivery time, please call us to ensure this time is available. We cannot guarantee timed orders made solely on our website.
Due to heavy delivery volume, we will not be taking timed deliveries Feb. 12th-Feb. 15th. (This excludes funeral orders
Certian weather conditions will prohibit us from leaving deliveries anywhere other than in a climate controlled building.

We are unable to make deliveries on Sundays with the exception of funeral deliveries. Deliveries requested on this day will be delivered the following business day.

Delivery of orders to rural route addresses or cemeteries cannot be guaranteed.

We will be happy to accept your international orders if you call our shop directly. We are unable to accept international orders over the Internet.
Specialty Services
We specialize in the following services:




Large inventory of fresh flowers & arrangements

Plants

European gardens

Planters

Contemporary and traditional arrangements

Silk arrangements

Wedding Flowers

Funeral Arrangements

Mylar & Latex Balloons

Plush Animals
Privacy Policy
This privacy statement has been created in order to demonstrate our firm commitment to protecting customer privacy.

Information We Collect

If you open an account on our site or make a purchase, we need your contact information including your name, e-mail address and mailing address to complete your transaction.

When you visit our website, we also collect some basic information that does not identify individual users. We use this information to determine our users demographics and interests, so that we can better understand and serve our users.

"Cookies"

Cookies are small files which store certain information about your activity on the website and are stored on your computers hard drive. Our cookies do not contain any personally identifying information. We use cookies to let us know that you are a prior customer, so that you dont have to reenter information you gave us on your prior visits. Most web browsers automatically accept cookies, but most allow you to instruct your browser to prevent the use of cookies. However, if you disable cookies, you will not be able to use certain features of this website.

Our Use and Disclosure of Your Information

When opening an account or making a purchase, you have an opportunity to opt-in or opt-out from receiving emails from us. If you opt-in to receive information from us, we may use your purchase history, contact information and other registration information to provide you with more relevant information and email content. We may send emails to our users regarding changes in our services or other information we believe will be of interest to our users. If you prefer not to receive these emails, you can send us an email with the subject line no emails or reply to our email with the subject line no emails.

If you send us personal correspondence, such as emails or letters, or if other users or third parties send us correspondence about your activities on our site, we may collect such information. We may use that information and other information that we obtain from your use of our site to resolve disputes, troubleshoot problems and enforce our agreement for Terms of Use.

We may share aggregate statistics about our sales, traffic patterns and related site information with other businesses, but these statistics will include no personally identifying information.

We may share your information with Teleflora and other reputable vendors for the purpose of sending out special offers via email and/ or in connection with the services provided by our site such as the delivery of flowers. Your information will not be shared for any other purpose and will be kept secured.

We cannot ensure that all of your private communications and other personally identifiable information will never be disclosed in ways not otherwise described in this Privacy Statement. For example, we may be required to disclose information to the government or third parties under certain circumstances, or third parties may unlawfully intercept or access transmissions or private communications. We can (and you authorize us to) disclose any information about you to law enforcement or other government officials as we, in our sole discretion, believe necessary or appropriate in connection with an investigation of fraud, intellectual property infringements, or other activity that may be illegal or may expose us to legal liability.

Security

This site has security measures in place to protect the loss, misuse and alteration of the information under our control.

All user credit card information is securely communicated using secure socket layer (SSL) software, which is the industry standard and among the best software available for secure commerce transactions.

All user information stored on our server is stored in an encrypted format. Notwithstanding these efforts, we caution you that perfect security does not exist on the Internet.

Linked Sites

If this site contains any links to other websites, we are not responsible for the privacy practices or the content of such websites.

Changes to Privacy Statement; Consent

We may update this Privacy Statement from time to time. You should check this page periodically for changes. By using our site, you consent to the collection and use of your information by us as described in this Privacy Statement.

Questions and Comments

We welcome your questions and comments about this Privacy Statement.